Davidson County Schools District Calendar: Davidson County Schools District is a public school district located in Lexington, North Carolina, United States. It is the 6th best school district in the Greensboro Area, Lexington, United States. There are a total of 39 schools in the school district which includes 19 Elementary Schools, 9 Middle Schools, and 11 High Schools. There are a total of 18,974 students and teachers in a ratio of 17:1. This school district starts from grade P-K to grade K-12. Also, there are approx 45% of students get free or reduced lunch services. The teachers of the Davidson County Schools District teach so well that the students enjoy the classes, especially English and Maths. Teachers make up to bring up the career of their students and help them in achieving those goals. The teachers and the administration always there to stand up with the students.
Davidson County Schools District Calendar 2023-2024
Davidson County Schools District is a renowned educational institution located in Davidson County, North Carolina. It is committed to providing high-quality education to students in the district and preparing them for success in their future endeavors. The district encompasses several schools, each dedicated to fostering a positive learning environment and nurturing the intellectual, social, and emotional growth of its students.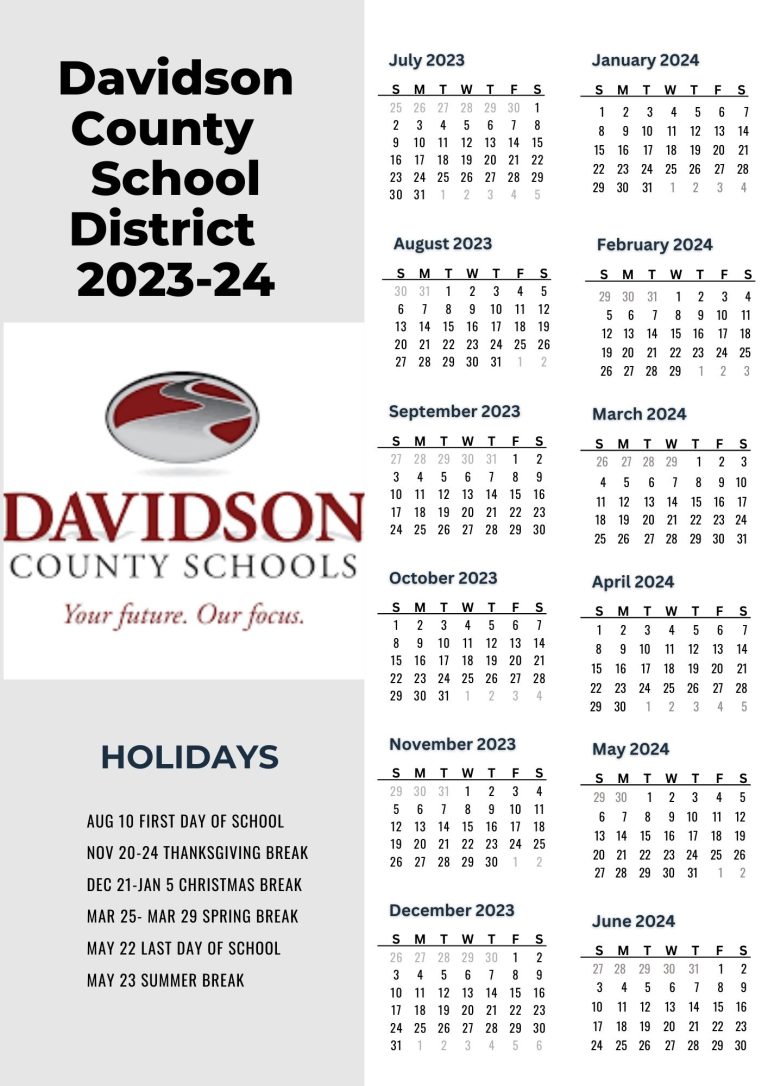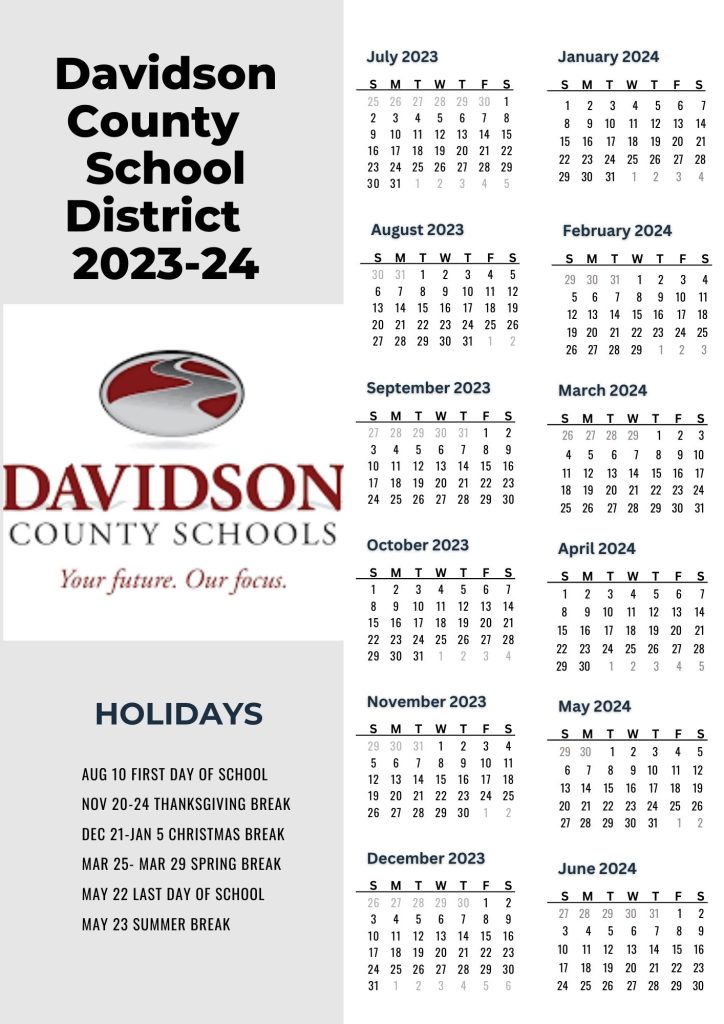 With a team of highly qualified educators and staff members, Davidson County Schools District focuses on delivering comprehensive education that promotes critical thinking, creativity, and problem-solving skills. The district's curriculum is designed to meet the diverse needs of students, offering a wide range of academic programs, extracurricular activities, and support services.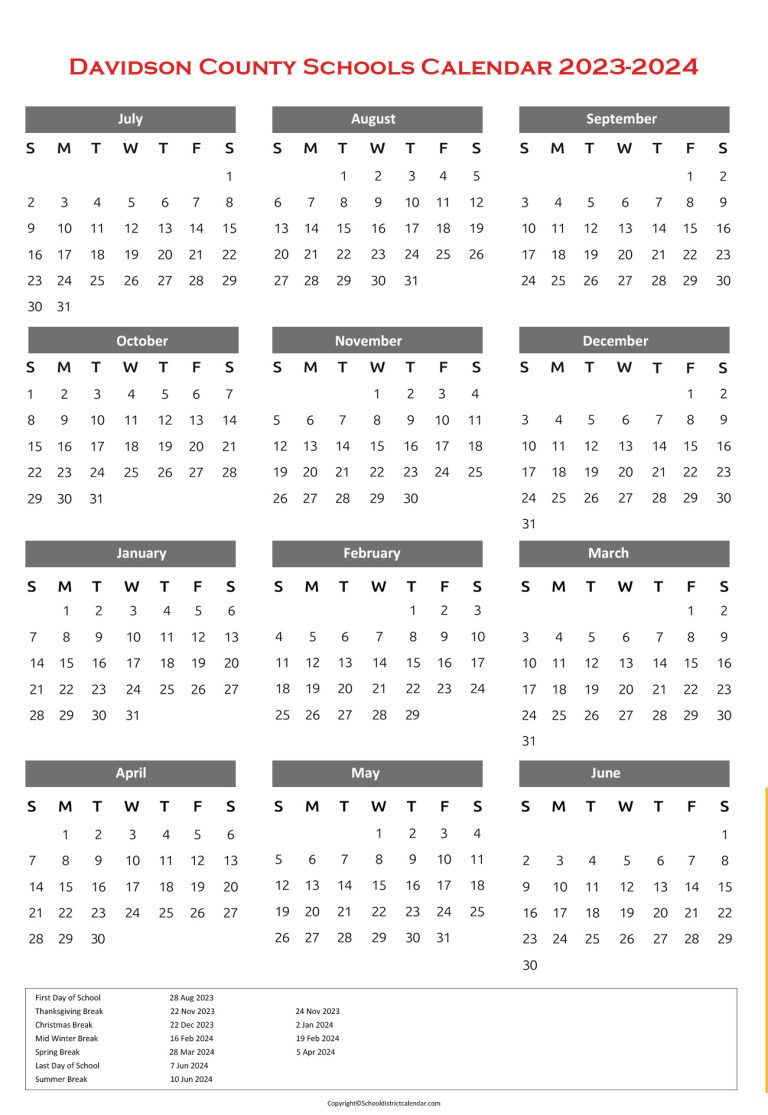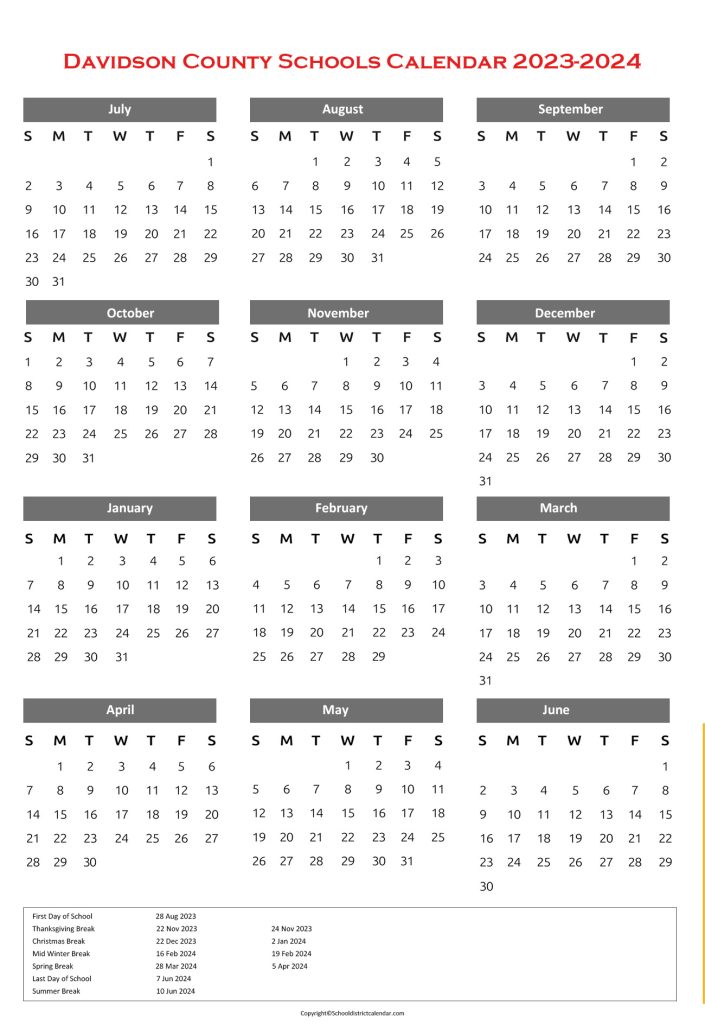 In addition to its academic excellence, Davidson County Schools District also emphasizes the importance of fostering a sense of community and collaboration. The district actively engages parents, guardians, and the local community in the educational process, recognizing the vital role they play in supporting student success. Check out other schools in North Carolina:- Transylvania County Schools Calendar, Avery County Schools Calendar, Hickory City Schools Calendar, Mount Airy City Schools Calendar.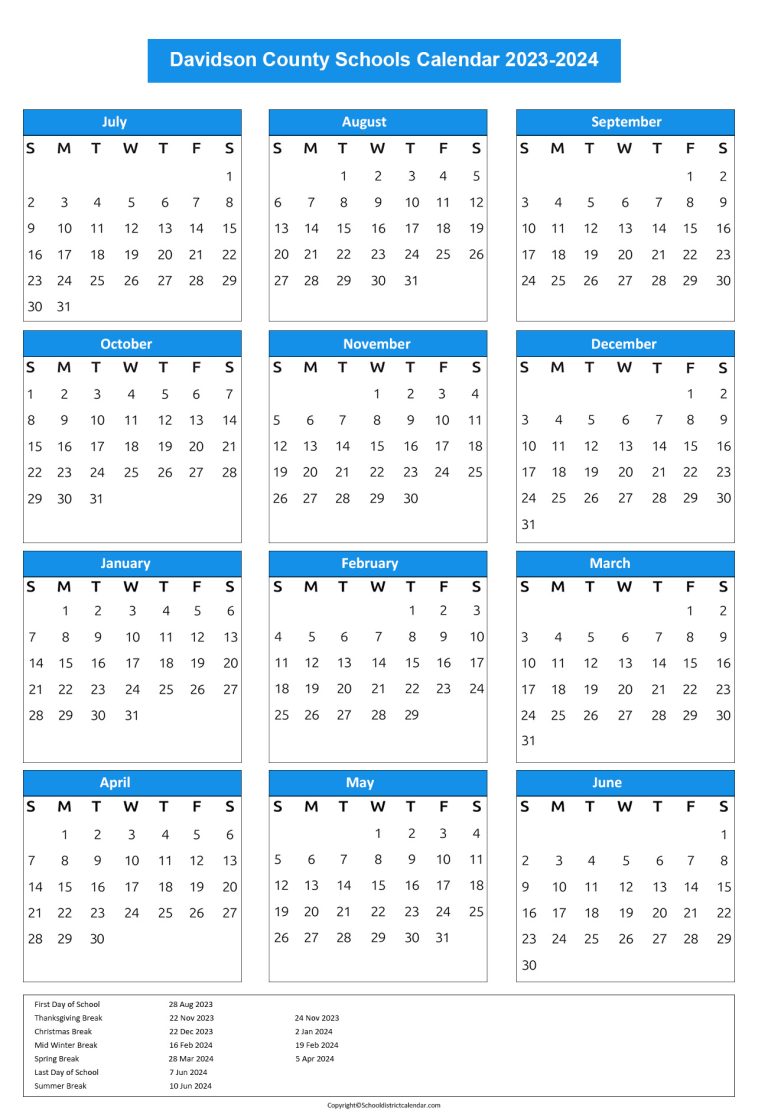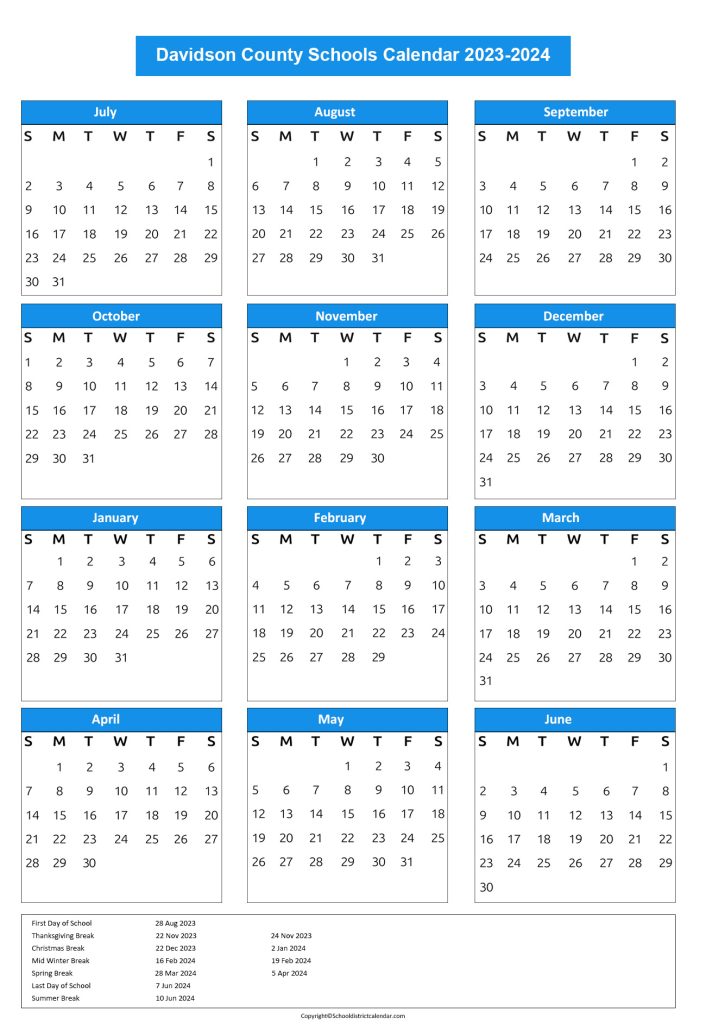 The Davidson County Schools District Calendar provides an overview of the academic year, including important dates, holidays, breaks, and other significant events. It serves as a valuable resource for students, parents, and staff members, helping them plan and stay organized throughout the school year.
Davidson County Schools Calendar with Holidays 2023-2024
The district calendar typically includes the start and end dates of the school year, professional development days for teachers, parent-teacher conference days, and school holidays. It is important to note that the calendar is subject to change, and any modifications or adjustments will be communicated to the stakeholders in a timely manner.
| Holiday/Break | Date | Day |
| --- | --- | --- |
| First Day of School | August 21 | Monday |
| Labor Day | September 4 | Monday |
| Fall Break | October 16 | Monday |
| Veterans Day | November 10 | Thursday |
| Thanksgiving Break | November 23-24 | Wednesday-Thursday |
| Winter Break | December 18 – January 1 | Monday – Sunday |
| Martin Luther King Jr. Day | January 15 | Monday |
| Spring Break | March 12-16 | Monday-Friday |
| Good Friday | April 6 | Friday |
| Memorial Day | May 28 | Monday |
| Last Day of School | June 6 | Wednesday |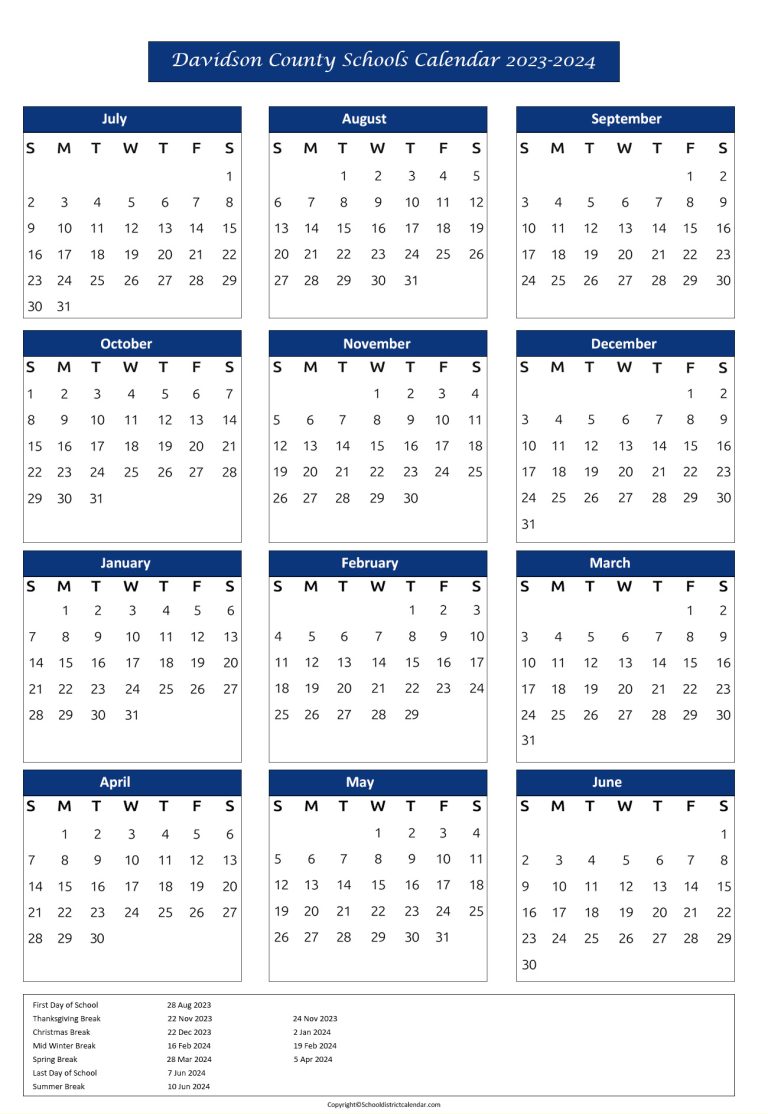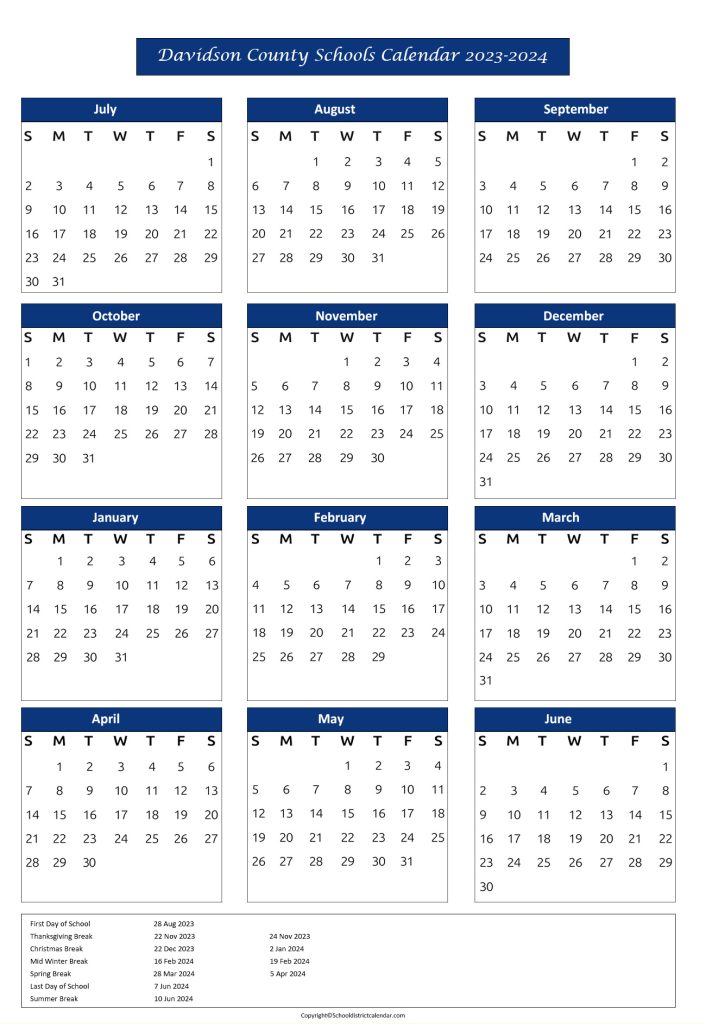 Holidays can also impact the scheduling of exams, assignments, and other assessments. Teachers and students need to plan their coursework effectively, taking into account the breaks and allocating sufficient time for preparation and completion of assignments.
Furthermore, holidays may affect extracurricular activities and school events. Coordinating sports competitions, cultural performances, and other school functions around holidays requires careful planning and coordination to ensure maximum participation and engagement.
Davidson County School District Calendar with Breaks
Holidays play a significant role in shaping the academic year and have an impact on the overall functioning of the Davidson County Schools District. While holidays provide much-needed breaks and time for relaxation. They also present certain challenges and considerations for both students and staff members.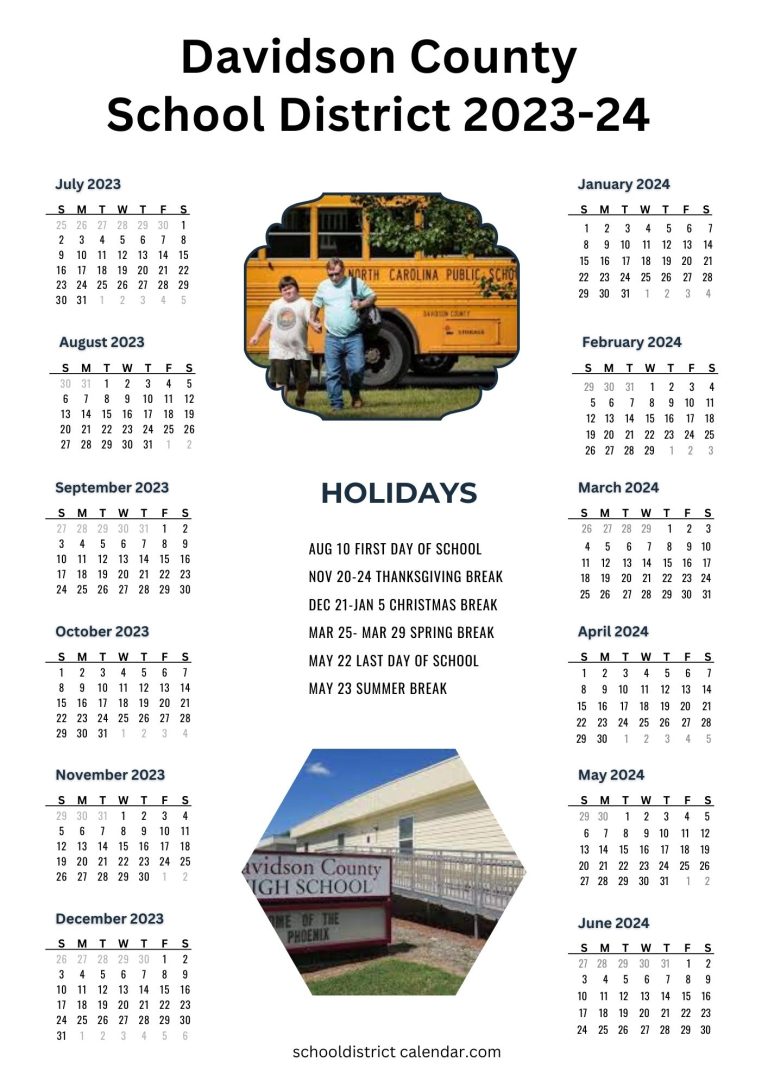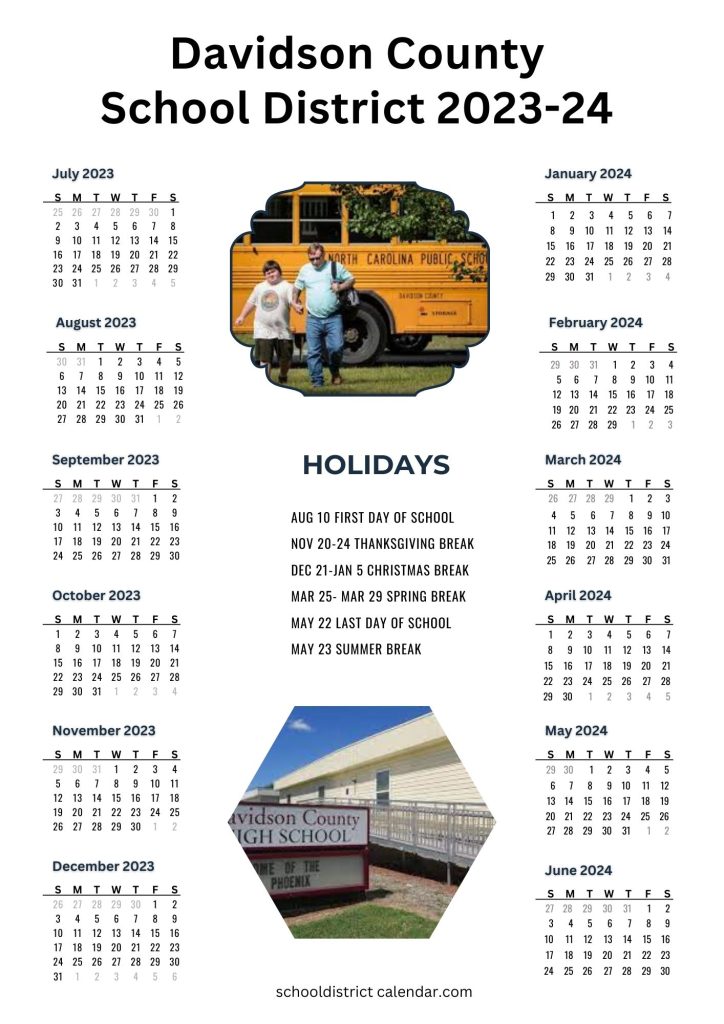 One key aspect of holidays is the potential disruption to the academic flow. When students and teachers return from an extended break, it may take some time to regain momentum and adjust to the learning environment again. Educators often plan instructional strategies to address this transition and ensure a smooth return to classroom activities.
The Davidson County Schools District acknowledges the importance of holidays. And breaks in the overall well-being of students and staff members. These periods provide opportunities for rest, rejuvenation, and quality time with family and loved ones. The district calendar incorporates various holidays and breaks throughout the academic year to ensure a healthy work-life balance and promote student and staff well-being.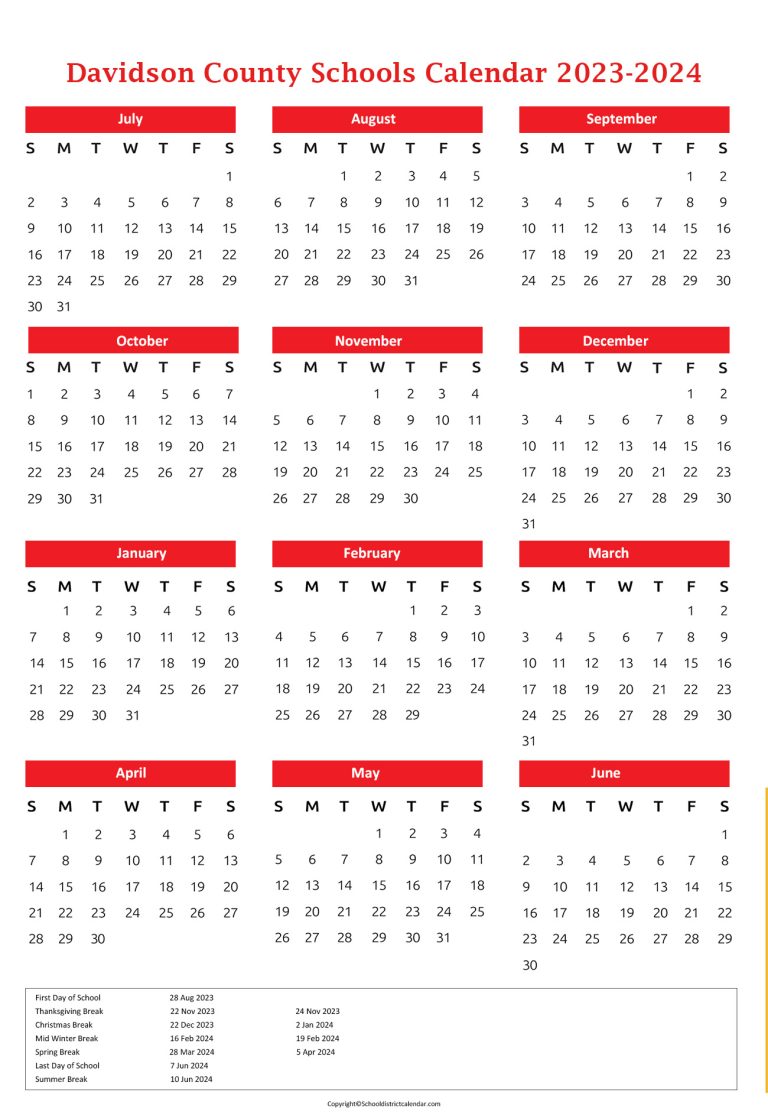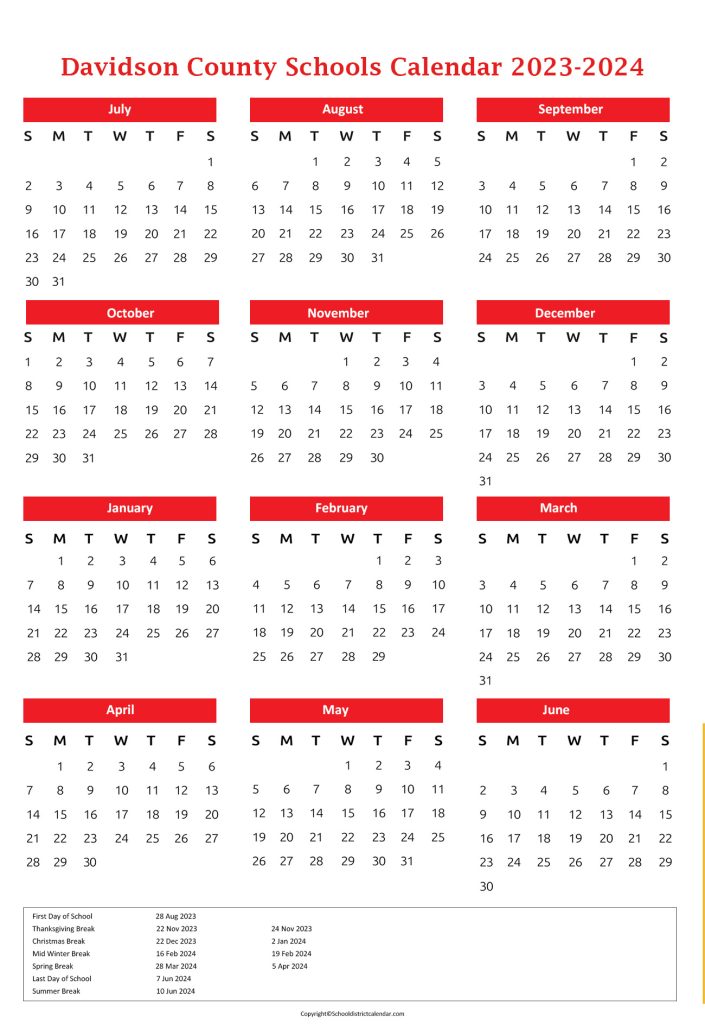 Holidays such as Thanksgiving, winter break, spring break, and public holidays are typically observed in the Davidson County Schools District. These breaks offer students a chance to recharge and engage in activities beyond the classroom, fostering holistic development and personal growth.
It is worth noting that the specific dates for holidays and breaks may vary from year to year, and the district calendar should be consulted for accurate and up-to-date information.
FAQs
Q: When does the school year start for Davidson County Schools District in 2023-2024?
A: The first day of Davidson County Schools District is on August 21, 2023.
Q: Are there any breaks during the fall semester of the academic year?
A: Yes, there is a fall break scheduled for October 16, 2023.
Q: What are the dates for the winter break in 2023-2024?
A: The winter break spans from December 18, 2023, to January 1, 2024.
Q: Is there a spring break in the Davidson County Schools District calendar for 2023-2024?
A: Yes, the spring break is scheduled from March 12 to March 16, 2024.
Q: When is the last day of school for students in the 2023-2024 academic year?
A: The last day of school is on June 6, 2024.