Pinellas County Schools Calendar: Pinellas County Schools is a public school district located in Largo, Florida, United States. It is the best school district in Tampa Area, Largo, Florida, United States. There are a total of 198 schools in the school district which includes 104 Elementary Schools, 54 Middle Schools, and 40 High Schools. The Pinellas County Schools is consists of a total of 100,948 students and teachers in a ratio of 13:1. There are approx 50.3% of students in the school district who get free or reduced lunch services. The teachers help the students in performing academics and teach them how to tackle the difficult phase. It's very important for students to achieve their goals as they wished to. The teachers really need to know that the students have to look out for their future ahead and they should guide them for that.
Pinellas County Schools Calendar 2023-2024
Pinellas County Schools is a school district located in Pinellas County, Florida. It serves a diverse community of students and is dedicated to providing high-quality education and preparing students for success in college, career, and life. The district encompasses a wide range of schools, including elementary, middle, and high schools, as well as magnet programs, career academies, and virtual learning options.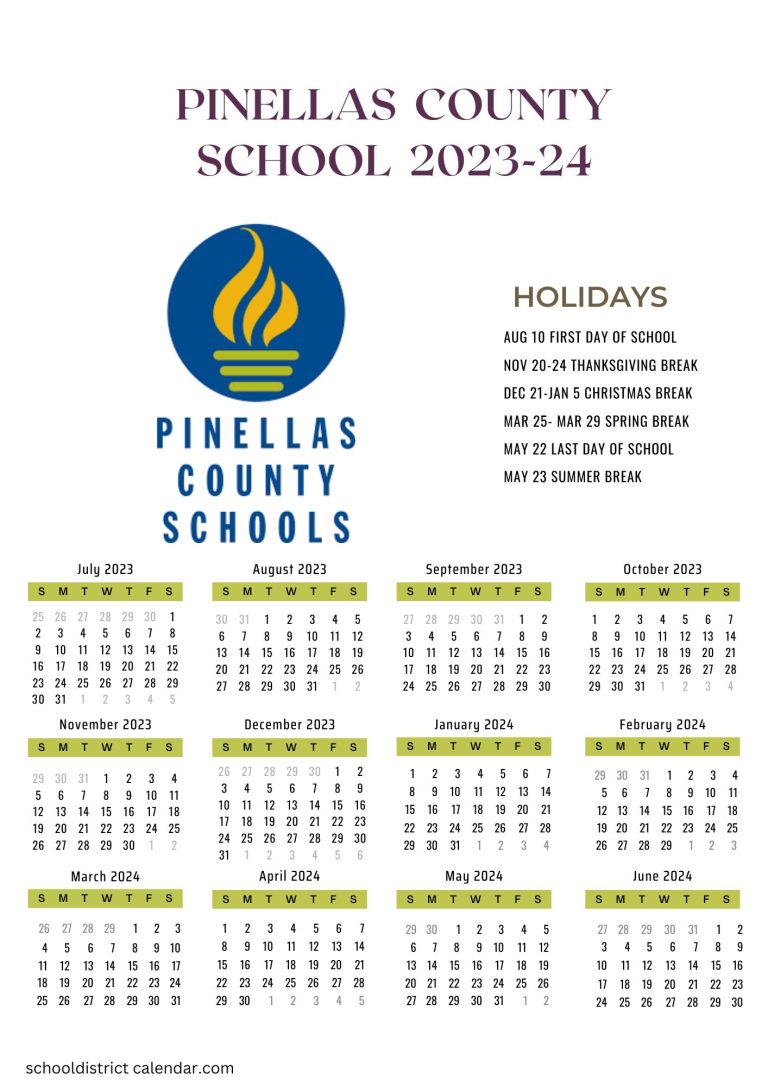 Pinellas County Schools values innovation, collaboration, and individualized instruction to meet the needs of all students. The district strives to create a safe and inclusive learning environment that fosters critical thinking, creativity, and a love of learning. It promotes parent and community engagement as key components in supporting student achievement and well-being. Check out other schools in Florida:- Volusia County Schools Calendar, Duval County Public Schools Calendar, Wake County Schools Calendar, Moore County Schools Calendar.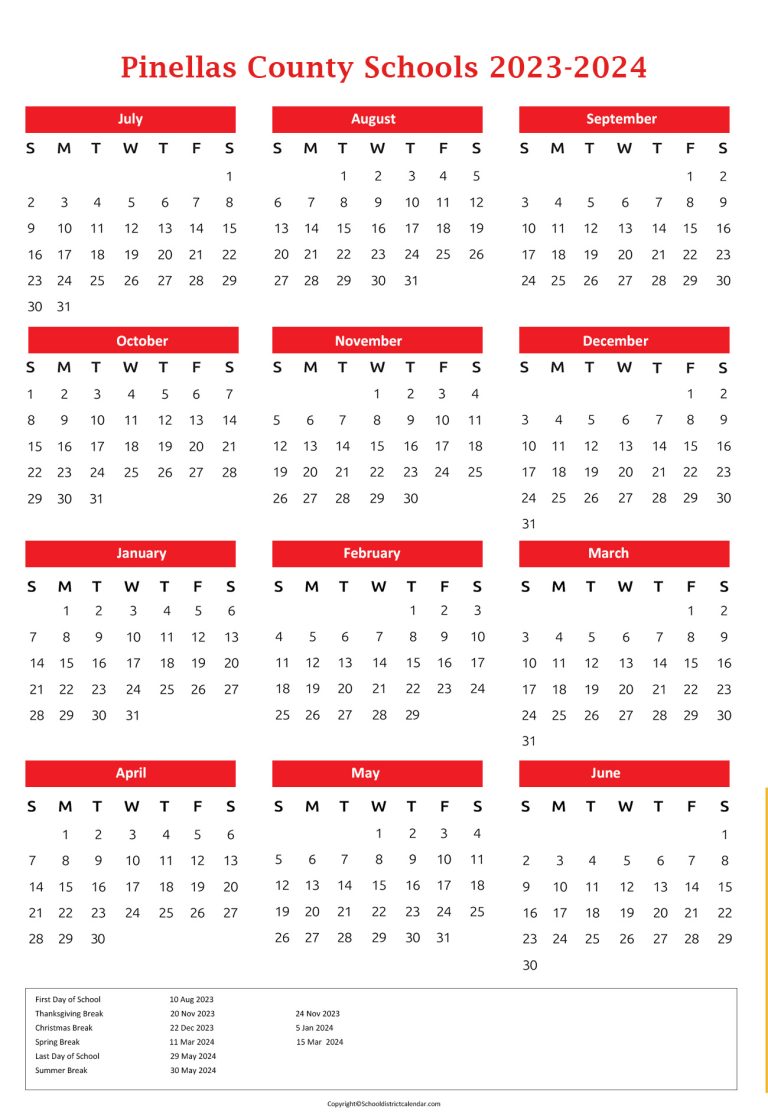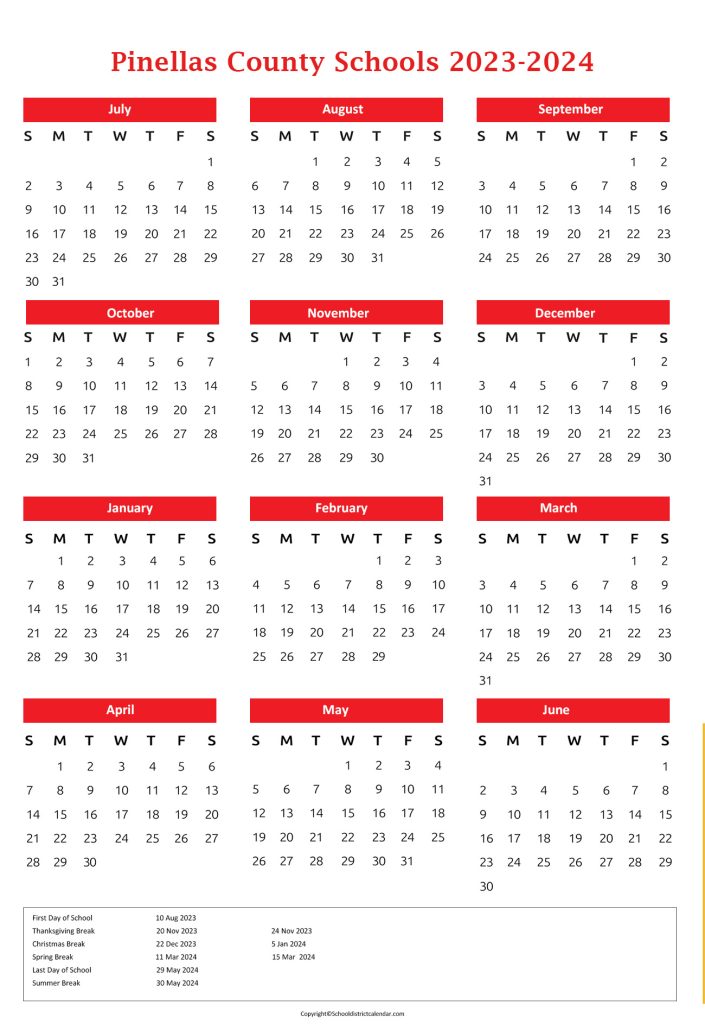 The Pinellas County Schools Calendar is a valuable resource for students, parents, and staff to stay informed about important dates, events, and holidays throughout the academic year. The calendar provides an overview of the district's schedule and helps in planning and organizing activities and commitments.
Pinellas Schools Calendar with Holidays 2023-2024
Holidays have a significant impact on Pinellas County Schools, influencing various aspects of the educational environment. While holidays provide valuable opportunities for rest and celebration, they also require careful planning to minimize disruptions to student learning.
| Holiday/Break | Date | Day |
| --- | --- | --- |
| First Day of School | August 14, 2023 | Monday |
| Labor Day | September 4, 2023 | Monday |
| Fall Break | October 9-13, 2023 | Monday-Friday |
| Thanksgiving Break | November 23-24, 2023 | Wednesday-Thursday |
| Winter Break | December 25, 2023 – January 5, 2024 | Monday-Friday |
| Martin Luther King Jr. Day | January 15, 2024 | Monday |
| Spring Break | March 18-22, 2024 | Monday-Friday |
| Memorial Day | May 27, 2024 | Monday |
| Last Day of School | June 5, 2024 | Wednesday |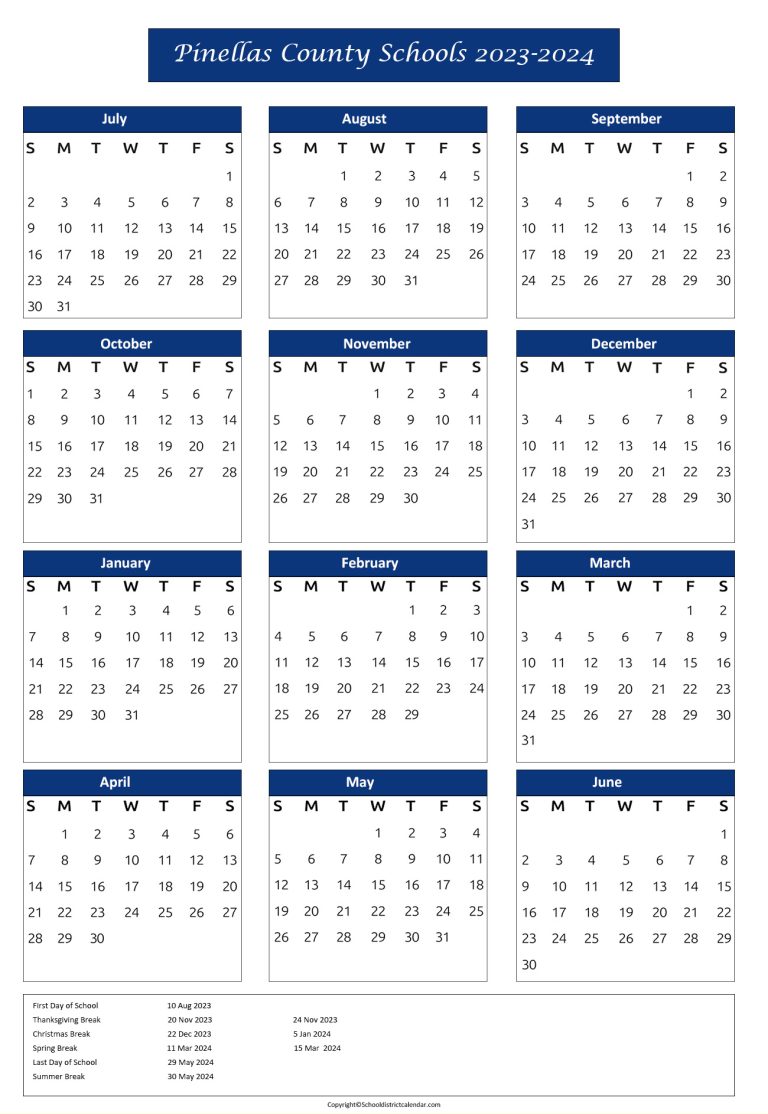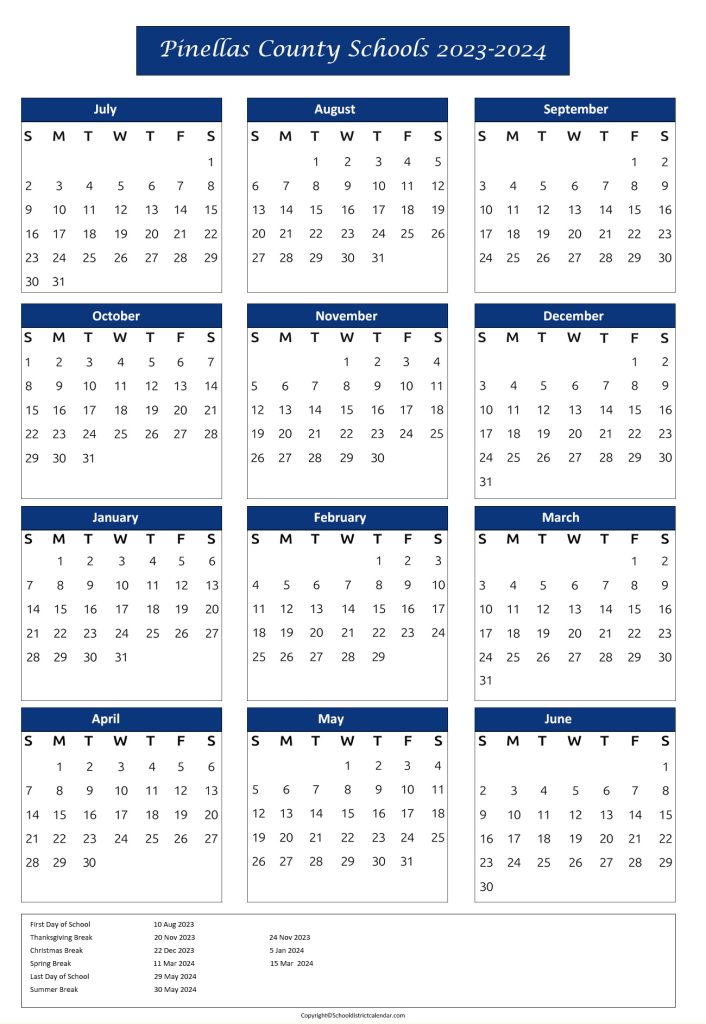 The Pinellas County Schools Calendar typically includes key dates such as the first day and last day of school, holidays, breaks, early release days, and teacher planning days. It aims to strike a balance between instructional time and opportunities for rest, relaxation, and enrichment.
The district considers state requirements, local considerations, and input from stakeholders when designing the calendar. It is important for families to review the calendar regularly to stay updated on any changes or additional events.
Pinellas County School District Calendar with Breaks
Pinellas County Schools observes various holidays and breaks throughout the academic year to provide students and staff with time to recharge, spend time with family, and engage in personal and community activities. These breaks are designed to support student well-being and ensure a healthy work-life balance.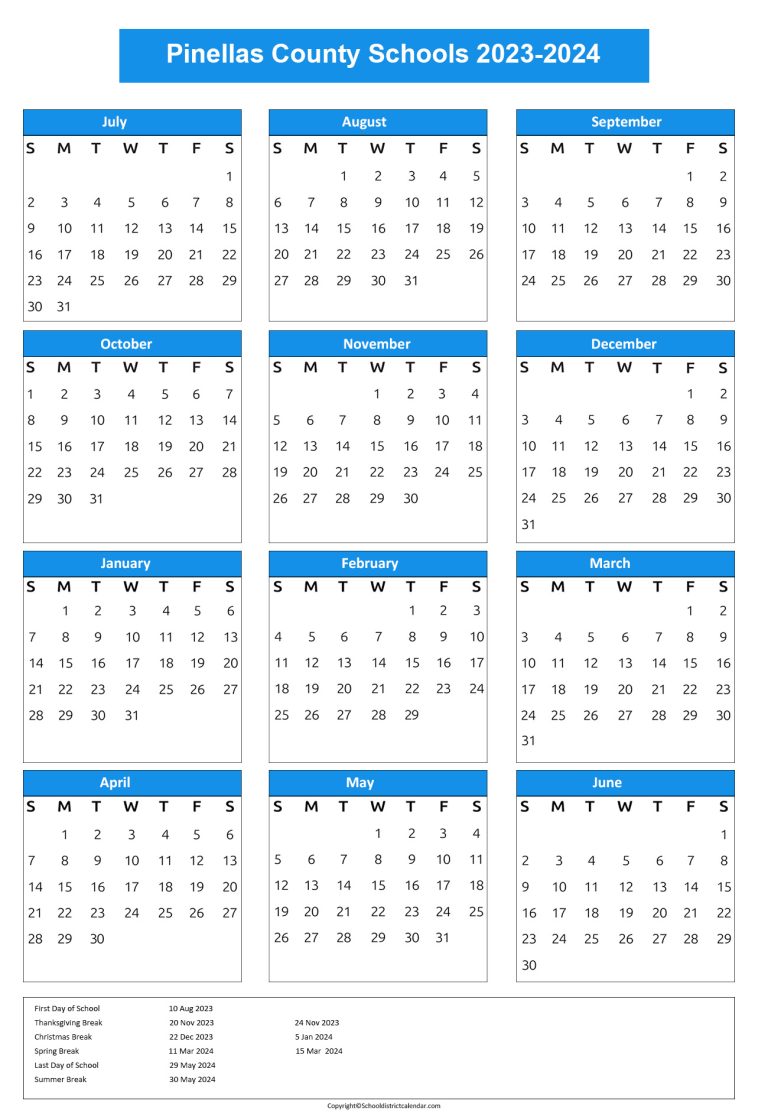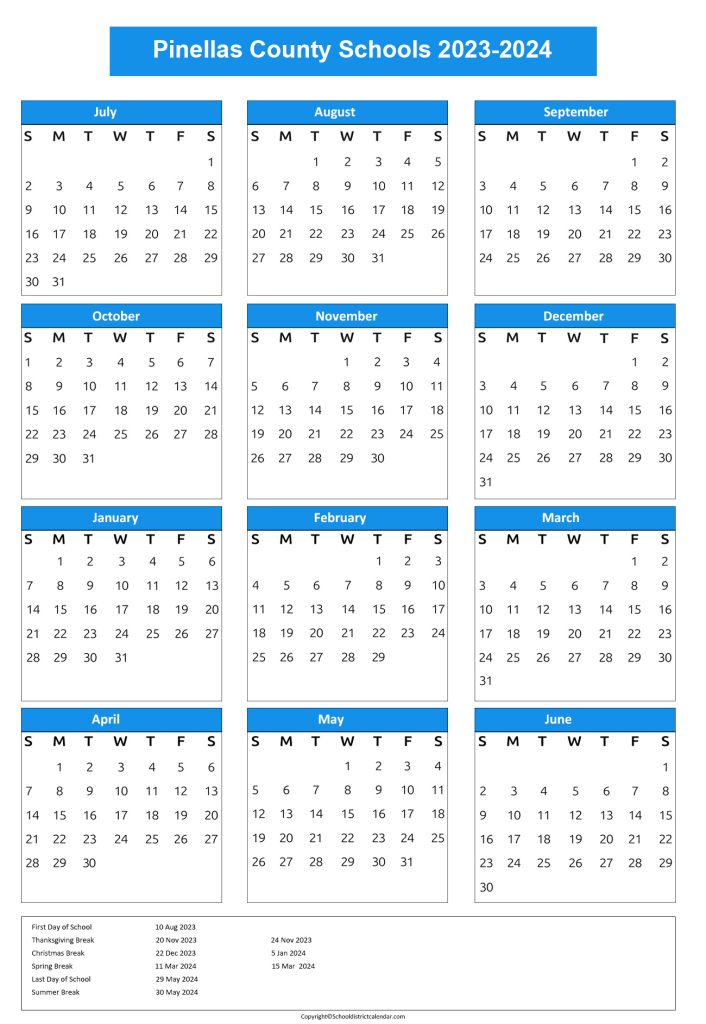 Some of the holidays and breaks typically observed by Pinellas County Schools may include Labor Day, Thanksgiving Break, Winter Break, Spring Break, and Memorial Day. These breaks offer students opportunities to relax, pursue interests, participate in community events, and engage in educational experiences beyond the traditional classroom.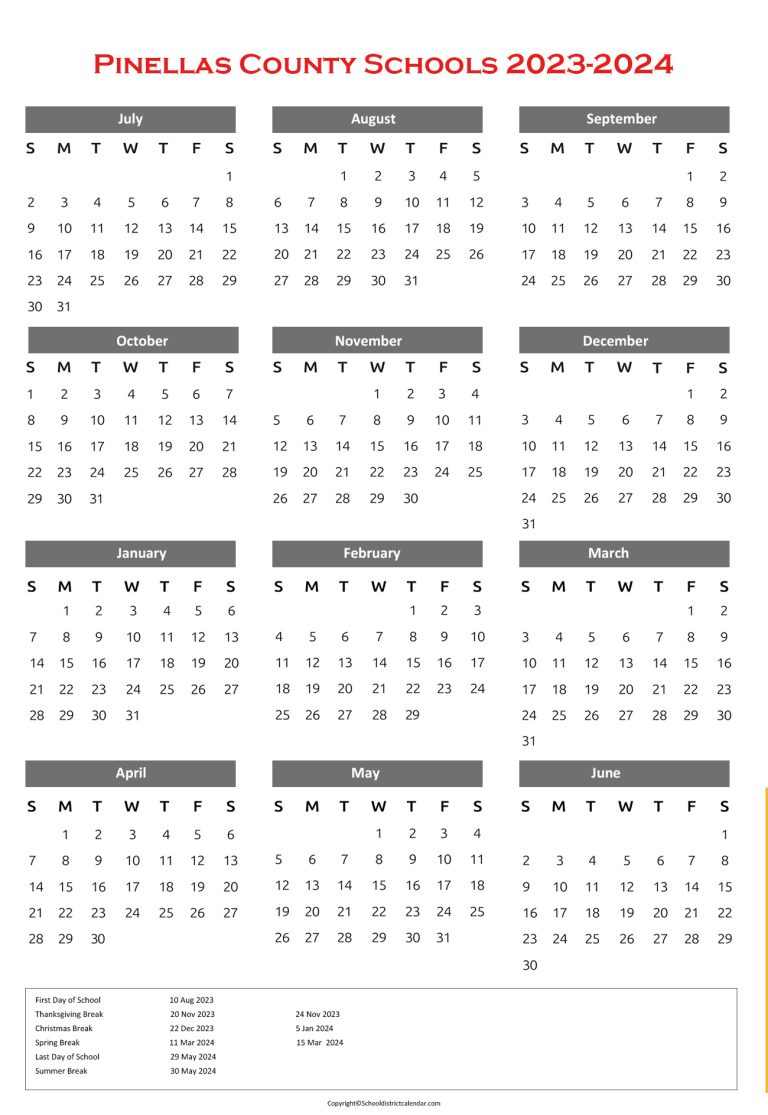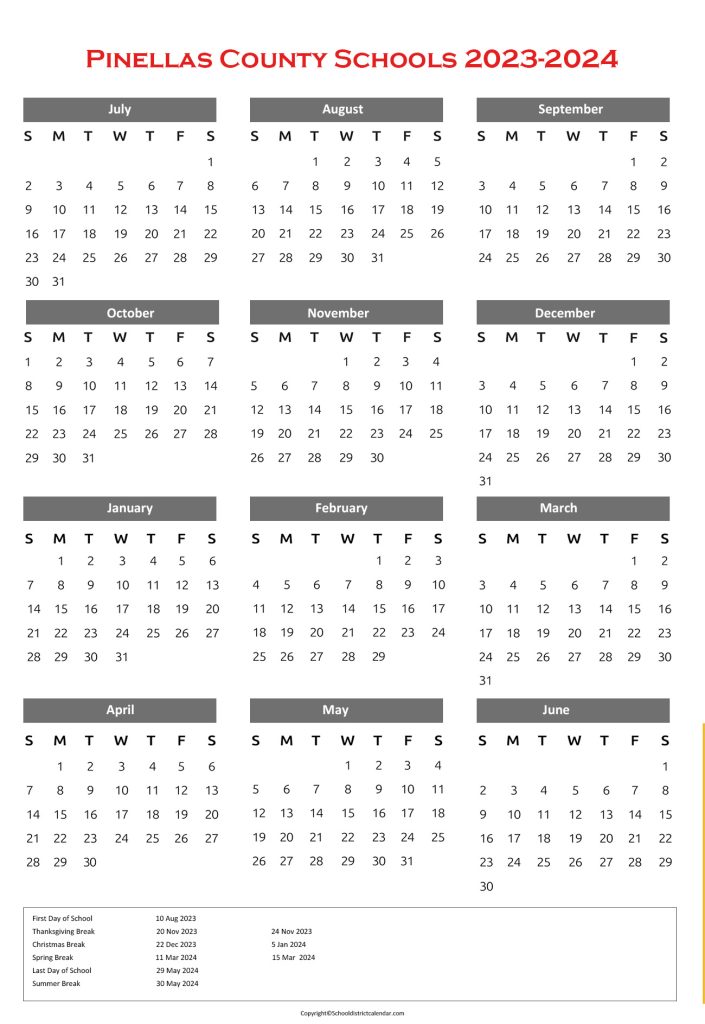 One key impact of holidays is the adjustment of the instructional schedule. After a holiday, teachers may need to review previously covered material and ensure a smooth transition back into the academic routine. It is important for educators to plan their lessons accordingly, allowing adequate time for re-teaching and supporting students in catching up on missed content.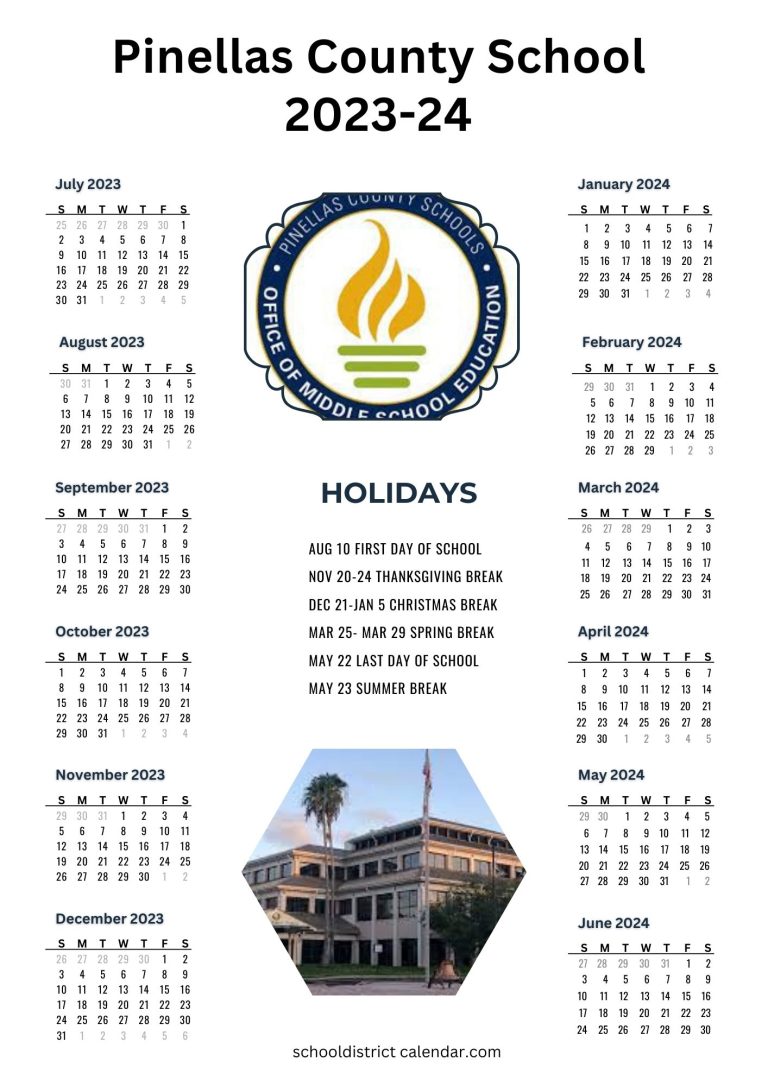 Holidays also affect extracurricular activities and events within the district. Athletic competitions, club meetings, performances, and other scheduled activities may need to be rescheduled or adjusted to accommodate the holiday break. Effective communication and coordination among administrators, teachers, and student organizations are essential to ensure a smooth transition and minimal disruption.
During these holidays and breaks, the district encourages families to explore educational opportunities, visit cultural institutions, or engage in community service. It recognizes that learning occurs in various settings and encourages students to make the most of these breaks by fostering curiosity, creativity, and personal growth.
FAQs
Q: When does the winter break start and end for the 2023-2024 school year in Pinellas County Schools?
A: The winter break typically starts on December 25, 2023, and ends on January 5, 2024.
Q: Are there any breaks during the fall semester in Pinellas County Schools?
A: Yes, Pinellas County Schools has a fall break scheduled from October 9 to October 13, 2023.
Q: When is the last day of school for students in Pinellas County Schools in the 2023-2024 academic year?
A: The last day of school typically falls on June 5, 2024.
Q: Will Pinellas County Schools be closed on Memorial Day?
A: Yes, Pinellas County Schools observes Memorial Day, which falls on May 27, 2024.
Q: How long is the spring break in Pinellas County Schools for the 2023-2024 academic year?
A: The spring break typically lasts for one week, from March 18 to March 22, 2024.