Boise School District Calendar:  Boise School District is a public district school situated in Boise, Idaho of the United States. The district was established in 1865 and it is the 2nd largest school district in the state. Boise School District is one of the oldest systems in Idaho. It is governed under the Idaho State Department of Education. The school embraces with 4 High Schools from grades 10-12, 8 Junior High Schools from grades 7-9, and 32 Elementary Schools from grades K-6. Boise School District has 26,023 of total students. The school focuses on Good education for a better tomorrow.
Boise School District Calendar 2020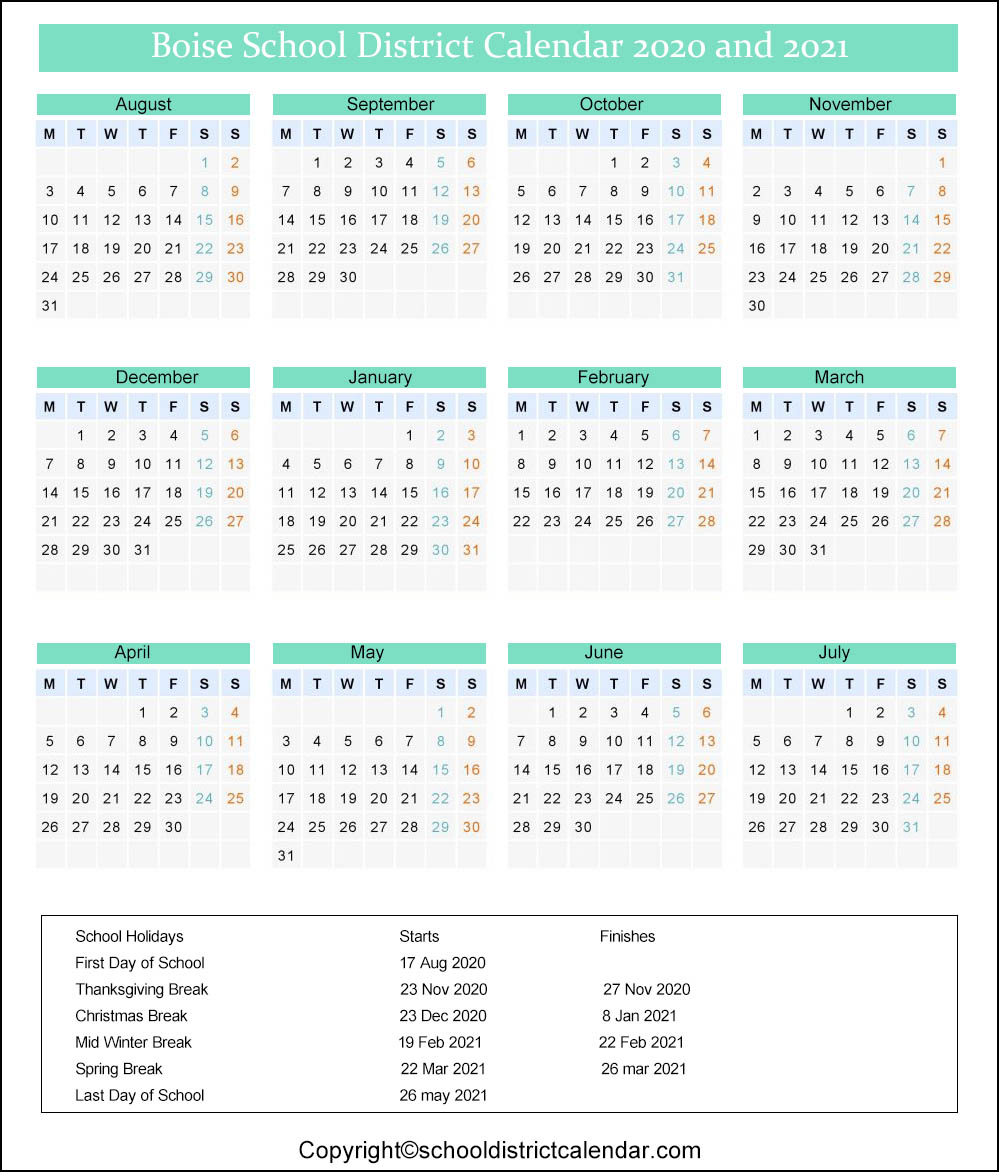 Boise School District, Idaho Calendar Holidays 2020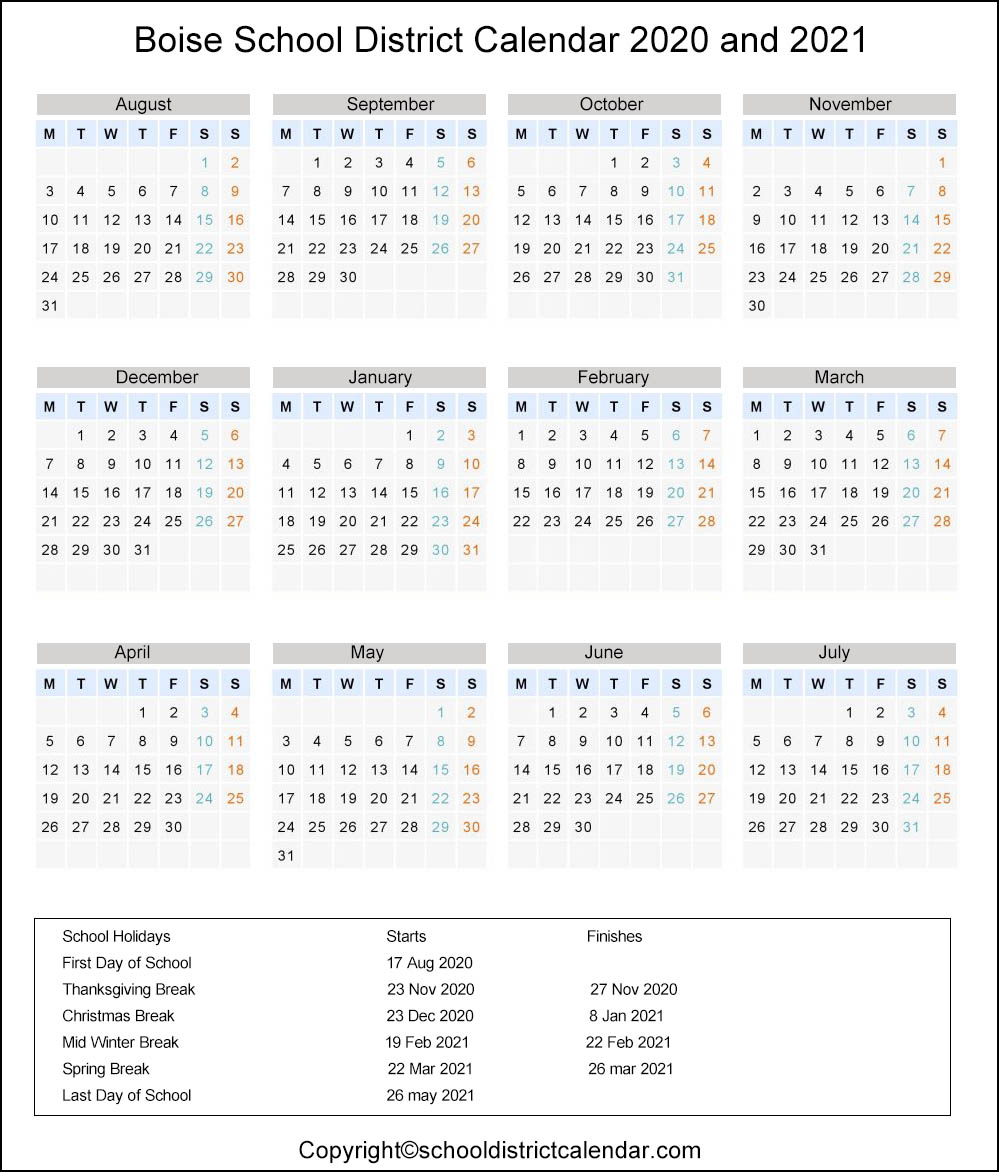 Here we have provided Boise School District Calendar 2020 images with holidays in the form of PDF which you would easily able to download. A calendar helps a lot in our daily life in maintaining our schedules, meetings, plans, family tour as well as for student's daily life. Likewise, we can mark the dates easily or check out the holidays rapidly whenever you want. On our website, you will find more other different schools calendar like Alpine School District Calendar 2020, Davis School District Calendar 2020, Beaverton School District Calendar 2020, Granite School District Calendar 2020 and more with mentioned holidays in it. You can easily download free calendars by clicking on the link given above.
Boise County School District Proposed Calendar 2020-2021
Month and Date 

Holidays (2020-2021) 

August 

18

, 2020

 

First Day of School

September 

7, 2020

 

Labour

 Day

 (No School)

 

October 16, 2020

 

End of 

F

irst 

Q

uater

 

October 

21

,

 2020

 

Parent Conferences

 

October 23

, 2020

 

No School Pre k-12

 

November

 23-

27,

 2020

 

Thanksgiving 

Break

 

December 

18, 21 & 22, 2020

 

Secondary End of Semester Testing

 

December 21, 2020

 

Early Release k-6

 

December 23, 2020 – January 8

, 2021

 

Winter Break

 

January 11, 2021

 

School Resumes

 

January 

1

8

, 2021

 

Martin Luther King

 

February 15

, 2021

 

President's Day

 

March 

4, 

2021

 

Kindergarten Registration

 

Ma

rch 19

, 2021

 

End of Third Quarter

 

March 22 – 26

, 2021

 

Spring Break

 

May 20

, 2021

 

Last Day of School for Seniors

 

May 27, 2021

 

Last Day of School Pre-Release k-16

 

July 5, 2021

 

No Summer School

 
According to the table given above is the list of holidays of Boise School District Calendar 2020. In the list, you will get to see each and every holiday of the year from 2020-2021 in a proper and understandable format. We know it's not that easy to search for a good and clear calendar and that is why we have provided you a clarity calendar list so that you can easily check out the days and holidays anytime and anywhere. For more school calendars and a list of holidays, you may visit our official website and get download those calendars for free.
Boise School District Corona Virus Update
Students gain more experienced knowledge when they are in school. And during this COVID-19 Pandemic period schools are not opening for students and staff. Classes are being taken from homes itself. Online lectures are being scheduled for the benefit of students so that they do not suffer more loss and could continue their studies from their homes. We are here to help you during this hilarious timing of COVID-19. We are directly working with the Central District Health and also with several county, city, states, and give you guys the latest update related to COVID-19 of Boise School District. You may leave us a comment below if you have any further enquired, we will definitely try to answer your questions as soon as possible.
Boise School District Jobs
Boise School District provides many job vacancies during this time too. You may apply for the different kinds of jobs option given by them. Here we have mentioned a list of some jobs provided by Boise School District that is: Area director, Principal, Assistant Principal, Teacher, School Nurse, School Psychologist, Clerical, Child Care, Custodial, Coaching services, Food Services and more. For more other jobs vacancies refer to our website, we will let you know the other jobs vacancies in Boise School District as well as from other schools.
Boise School District Pay Scale
Given here some estimated job pay scale of Boise School District given to their employees. The school pays differently according to the jobs of the employees like High School Teacher – $29k – $63k approx, HVAC Service Technician – $34k – $77k approx, Speech-Language Pathologist – $42k – $70k and etc. More of some other jobs has been mentioned on its official website or you can directly comment on us down, we will answer your comments and try to clear your doubts.
Boise School District Phone Number
For more detailed information contact the Boise School District to number: 854-4000. Also, the official website is given: https://www.boiseschools.org. May directly visit their website if required.